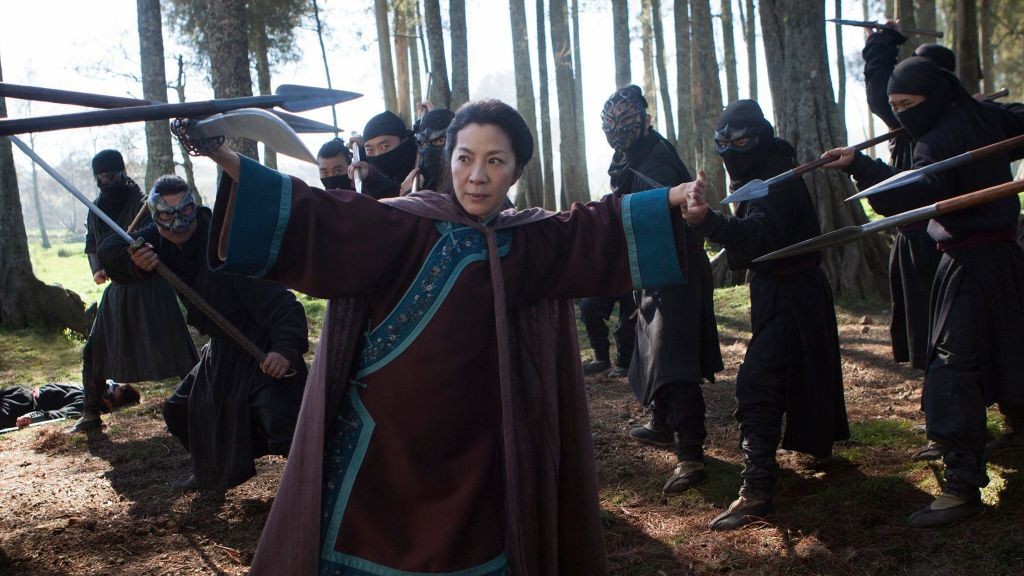 Directed by: Woo-Ping Yuen
Starring: Michelle Yeoh, Donnie Yen, Natasha Liu Bordizzo, Harry Shum Jr., Jason Scott Lee
Rated: PG-13 for martial arts violence and brief partial nudity
When "Crouching Tiger, Hidden Dragon" came out in 2001, it introduced director Ang Lee to American moviegoers and popularized Chinese martial-arts films in the western world. Now, fifteen years later, we get a sequel based on the same series of books. Famed action choreographer Yuen Woo-Ping, who handled the elaborate fights on the original film (as well as the Matrix movies and others), is directing. If you want to see amazing fight sequences with elaborate and beautiful wirework and choreography, you must not miss "Crouching Tiger, Hidden Dragon: The Sword of Destiny." Folks who loved the first film more for its story and tone than its swordwork may be disappointed.
The only character to return from the first film is the reserved and powerful Shu Lien (Michelle Yeoh). When the titular sword (which also served as a MacGuffin for the first film) is stolen, she and a team of volunteer fighters must find a way to get it back. Matters are complicated by Snow Vase (Natasha Liu Bordizzo), a mysterious young woman, and Tiefang (Harry Shum Jr.), who attempts to steal the sword and fails. As with the first film, there is a good deal of romance and melodrama, but what seemed restrained and passionate before is predictable and hamfisted here.
The differences between the two films are stark, and one can't help wondering if Netflix (who released the sequel film on their streaming service, while it is also being shown in some IMAX theaters) made the first film only available by DVD to discourage people from watching the two too close together. Even taking the cinematic changes of a decade and a half into account, the two films barely seem related.
For one thing, the sequel was shot in English and largely in New Zealand. Between the faint Kiwi accents some of the actors have and the scenery many Americans know from The Lord of the Rings, it feels like a fantasy that happens to have a Chinese theme. That the central cast is all Asian or half-Asian lends the film a bit of credibility, but something is lost in the shift away from Chinese locations, horses, and structures. The absense of director Ang Lee is also impossible to ignore. He lends even predictable stories an air of beauty and melancholy that is missing from the new film.
If you are more interested in the stunts than the film's other qualities, however, "Crouching Tiger, Hidden Dragon: The Sword of Destiny" does not disappoint. Better special effects allow for some innovative choreography (including a spectacular extended sequence on a partially-frozen lake in which the combatants kick frozen hunks of ice at each other), and there's a bit of humor in some of the matches.
Whether you will like the new film or not doesn't depend on whether you saw the first one. It depends on how patient you are and how much you love really stunning fight choreography. Those who love stage combat and don't mind waiting through fairly predictable story twists and turns will likely have a very good time. Those looking for the beauty and emotional connection of the first film will be disappointed.