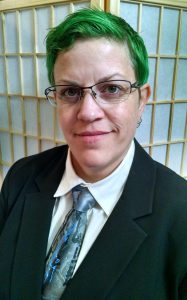 I'm a technical writer with 10 years of experience, based in Portland, OR. I'm currently looking for work, and open to both local jobs in the Portland area and remote/telecommuting work just about anywhere.
I have written end user documentation, administrator guides, online help, hardware testing procedures, and more – see my portfolio for samples!
Do you have docs that need writing? Get in touch!
What Other People Say
People I've worked with say…
"Ealasaid Haas is part of my dream team of technical writers. I would be happy to have her work for me again anywhere, anytime."
-John Hedtke, Principal Consultant for Double Tall Consulting and award-winning author of 27 books

"Ealasaid Haas is the kind of person that you always hope you'll be able to work with."
-John O'Connell, Senior Technical Writer, Intel

"Ealasaid is a fearless, versatile, and refreshingly capable Technical Writer. She's a tremendous credit to her craft."
-Andrew Davis, Recruiter of Technical Content Developers
Professional Summary
Won two writing awards for technical documentation
Became a Certified Scrum Master in 2015
Experience with documentation milestone scheduling, documentation need analysis, document planning, creating and enforcing style guides, teaching and training, curriculum design and development, document layout and design
Created and maintained documentation and UI style guides for several companies
Created a paperless system for tracking, updating, and searching electronics hardware safety tests, replacing over 100 separate offline paper documents
Created web-based training for beginning and intermediate HTML and web design
Skills
Adobe Software: FrameMaker, RoboHelp, Illustrator, Acrobat Pro, Photoshop
Miscellaneous Software: JIRA, Bugzilla, Perforce, Agile CMS, GitHub, GitBook
Web Software: WordPress, MovableType, Blogger, some Joomla and DreamWeaver
Microsoft Software: Outlook, Excel, Word, Visio, PowerPoint
Markup/Coding: HTML (15+ years), CSS, Markdown. Some experience with: Perl, JavaScript,
and Java