The House With a Clock in Its Walls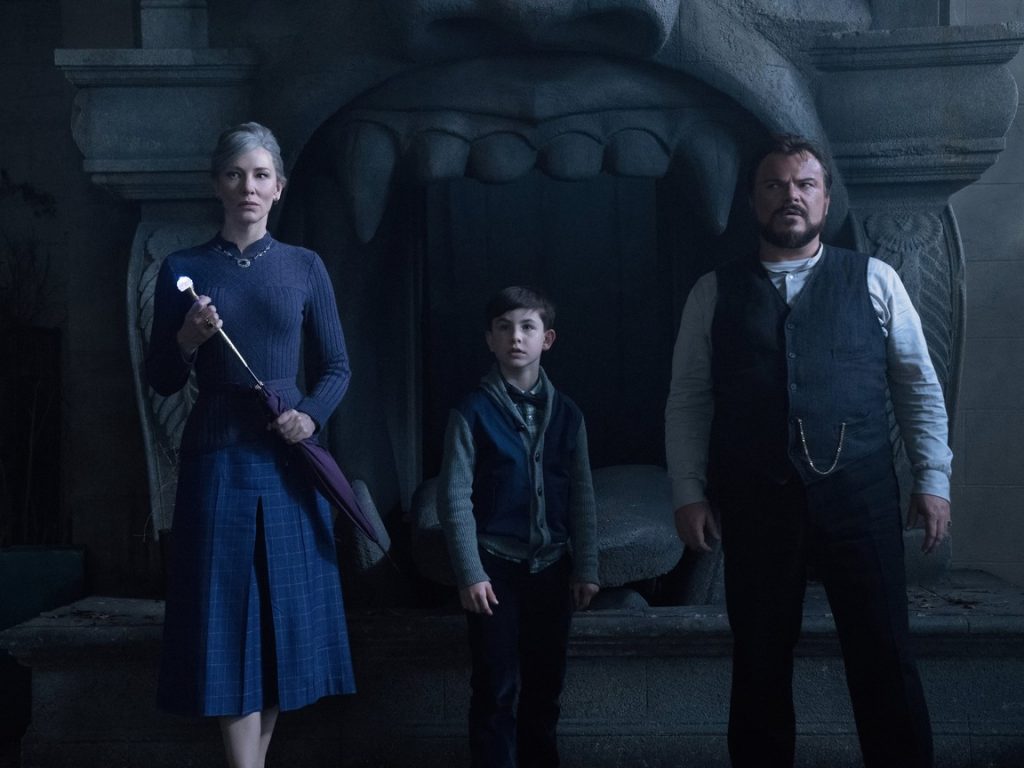 Directed by: Eli Roth
Starring: Jack Black, Cate Blanchett, Owen Vaccaro, Kyle MacLachlan
Rated: PG for thematic elements including sorcery, some action, scary images, rude humor and language
As a director, Eli Roth is best known for his shock and gore pictures: "Inglourious Basterds," "Hostel," "Cabin Fever," and so on. It's kind of strange to see him at the helm of a family fantasy movie, but he nails it in a way that makes one curious to see him branch out further. "The House with a Clock in Its Walls" is definitely a creepy-scary film, but it's aimed at families, so it's more gross-out rather than freak-out.
It's 1955 and young, recently-orphaned Lewis Barnavelt (Owen Vaccaro) has come to New Zebedee, Michigan to live with his uncle Jonathan (Jack Black). Jonathan turns out to be a warlock, one with a few secrets tucked away. His house is full of strange and magical creatures and objects, and used to belong to a powerful pair: the now-deceased Isaac (Kyle MacLachlan) and Selena (Renée Elise Goldsberry) Izard. It appears most of the furnishings belonged to them. Another thing that belonged to them: a clock hidden in the walls of the house, ticking away as it counts down toward something dastardly.
Lewis begs his uncle to teach him magic, and Jonathan agrees, with the help of his friend and neighbor Florence Zimmerman (Cate Blanchett). Things go well, until they don't. Lewis tries to show off to impress his cool classmate Tarby (Sunny Suljic), and instead unleashes an undead Isaac on the town. Isaac wants his house back so he can complete the ritual he started when he created the clock.
An underlying theme of the film is about the horrors of WWII – Florence escaped Paris to live in the US and has tragedy in her past (the revelation of what happened will likely go over the heads of most kids but hit home with adults), and Isaac returned from his time on the battlefield vastly more powerful but completely changed as a person. We don't see any of the war's horrors aside from a few explosions in a flashback, but the context is there for adults who know the history.
The film rests on the shoulders of its young star, and Vaccaro mostly nails it. He is able to commit to ridiculous moments as much as to spooky and serious ones. He has undeniable chemistry with Black, who is his usual charming and overblown self, but in a much more kid-friendly way than in, say, "Tenacious D." Blanchett strikes a balance between Florence's tragic past and her current fondly-bickering friendship with Jonathan.
This isn't a great film by any means, but it's a solid one for kids who like spooky stuff and won't be too scared of creepy living dolls, shape-shifting witches, or blood-drop-fueled necromancy. There's a flashback scene of Isaac on the battlefield, dodging explosions before getting lost in a forest, but no real gore. This is a fun Halloween movie for budding young horror fans and their parents.