The King's Speech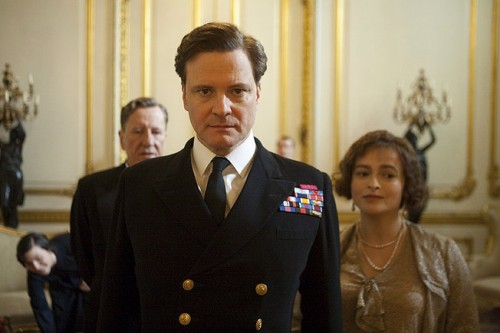 Directed by: Tom Hooper
Starring: Colin Firth, Geoffrey Rush, Helena Bonham Carter
Rated: R for some language.
Films about British Royalty are nothing new, but "The King's Speech" has a different focus. Rather than looking at long-lived Queen Victoria or Edward VIII's abdication of the throne for love of a twice-divorced commoner, it looks at her grandson and his younger brother — George VI, who had to overcome a terrible stammer to become the public speaker his country needed as it entered the second World War. It seems a little odd to say that a film about a speech impediment is absolutely marvelous, but it is. The story is simple, but the emotional impact and the depth of character make it incredibly engaging.
It opens with the future king, then Duke of York (Colin Firth), attempting to give an address at Wembley stadium. The microphone amplifies his voice, causing it to echo tremendously — and it also emphasizes the rather choked sounds he makes as he tries to force his stammer-clenched throat to let him speak. His people and his compassionate wife Elizabeth (Helena Bonham Carter) look on in pity.
He's seen nearly every speech therapist in England, but Elizabeth finds yet another and persuades her despairing husband to see him. The eccentric Australian, Lionel Logue (Geoffrey Rush), comes highly recommended. He's very unorthodox, however, and insists that within his office everyone is equal. Thus he is to be called "Lionel" and his Royal Highness shall be "Bertie." His methods range from the hilarious, as when he discovers Bertie doesn't stammer when he swears and has him produce a long line of curses, to the poignant, when he gets Bertie to divulge his childhood treatment at the hands of his bully of a father, an awful nurse, and his own snide elder brother.
By the time we get to Bertie's coronation as George VI and his subsequent radio address to the nation upon the United Kingdom's entrance to World War II, we're so familiar with his difficulties speaking that his entire speech is an edge-of-the-seat scene. Will he make it through successfully? Will Logue's assistance be enough for him to overcome his anxiety? Even knowing the historical answers, it's nearly impossible not to be caught up in the relationship between the two men, the King afraid but determined, Logue calm and firmly encouraging.
"The King's Speech" rests firmly on the shoulders of Firth and Rush, and the two men carry it admirably. Firth's portrayal of the tightly-wound British royal gentleman is a thing of beauty. Bertie nearly always looks either nervous or miserable, but he has a backbone of steel that carries him through even when he can't count on his own voice. As Logue, Rush is equal parts sympathetic therapist and mad genius, and he commits entirely to the role. Their chemistry together is perfect, and it's a pleasure to watch the friendship between King and commoner grow over the course of the film.
The supporting characters are all excellent as well. It's nice to see Bonham Carter in a serious, quiet, period role again after several years of mostly fantasies and oddities. She has great skill, and uses it all here as the patient and sympathetic but also very determined wife of the royal hero. Pearce strikes the perfect note as Edward, letting us see both his position as a romantic hero who sacrificed everything for love and his status as the stubborn, selfish man who abandoned the throne to the younger brother who was never supposed to rule.
If you enjoy character development and dramas with a thread of dry humor, do not miss "The King's Speech." Action lovers and folks who find BBC dramas dull should stay away.