The Last Stand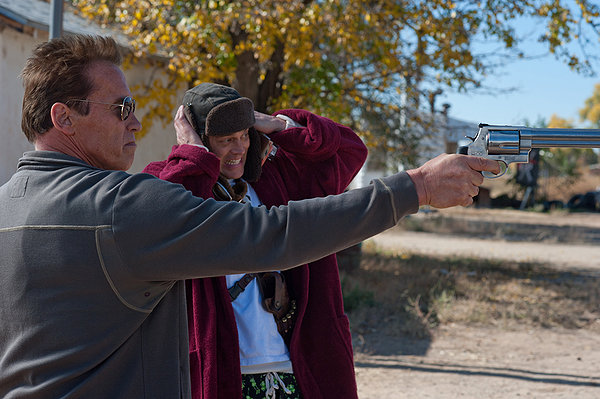 Directed by: Jee-woon Kim
Starring: Arnold Schwarzenegger, Eduardo Noriega, Jaime Alexander, Luis Guzman, Zach Gilford, Rodrigo Santoro, Johnny Knoxville
Rated: R for strong bloody violence throughout, and language
It's been eight years since we've seen Arnold Schwarzenegger in any major role other than Governor of California, and he's picked a perfect film for his comeback. "The Last Stand" is built from the same stock as the big action flicks he was making in the 80s. It's got a simple setup, all the major tropes, and plenty of cartoonish, over-the-top gunplay. Even better, unlike a lot of recent homages to the action flicks of the 80s, it doesn't bother trying to be gritty. This is the real deal: fun, explosions, and no thinking necessary.
Ray Owens (Schwarzenegger) is the sheriff of a tiny border town in Arizona called Sommersville Junction. He's been a lawman for a long time, and when a couple of truckers show up in town on his day off, he knows immediately that something's off about them. He's right — they're part of a team setting up a daring escape for a Mexican cartel boss on his way to death row. The boss, Gabriel Cortez (Eduardo Noriega), pulls off the escape and is soon headed toward Sommersville with the goal of crossing back into Mexico.
Owens only has a handful of deputies — there's the experienced Mike "Figgy" Figueroa (Luis Guzman), Sarah Torrance (Jaime Alexander), and young Jerry Bailey (Zach Gilford), who wants to move to LA and get some real excitement. Once the Sheriff realizes the scope of what he's dealing with, he deputizes a couple more, including town drunk and ex-marine Frank (Rodrigo Santoro) and town eccentric Lewis Dinkum (Johnny Knoxville). This little team of lunatics and misfits is all that stands between Cortez and freedom.
"The Last Stand" dances right up to the line of getting overly political and mostly manages not to cross it. Given that it's about a bunch of townsfolk along the Mexican border trying to stop a Mexican cartel boss from escaping justice, it'd be pretty easy for it to turn into a political screed with lots of jingoistic speeches. Fortunately, the mixed ethnicities of the good guys and a line from Owens referencing his own immigrant status help to take the wind out of those sales. This isn't a bunch of white folks against a bunch of Latino folks, it's a bunch of cops against a bunch of criminals. (Bonus: the ever-delightful Peter Stormare is on the bad team, playing a guy with a white name and a deep tan.)
What makes or breaks a movie like this is its pacing and its action. The pacing leaves a bit to be desired, with the film starting off a bit slow — but once it finally gets going, it roars along. The action is a delight for any old-school fan, with everything from six-shooters to rocket-propelled grenades in the mix. We get to see cars blown up, a road blockade taken out by some serious firepower and an enormous bulldozer-like vehicle, and a specially-modified Corvette that can go over 200 mph. There's even a deeply satisfying knock-down drag-out fistfight.
There's also a strong vein of humor running through "The Last Stand." Some of it is gory (one of the funniest shots is a bit of slapstick involving a bad guy who gets blown up), but a lot of it revolves around Owens being old and the folks in his town being deeply eccentric (a warning to any criminals reading this: watch out for little old ladies who say "no trespassing!").
"The Last Stand" is a film out of its time, and likely not to be around for long, so go see it while you can if this is the kind of thing you like. If you're more interested in guns than splashing gore, more interested in laughs than grit, this is your movie.