Furious 6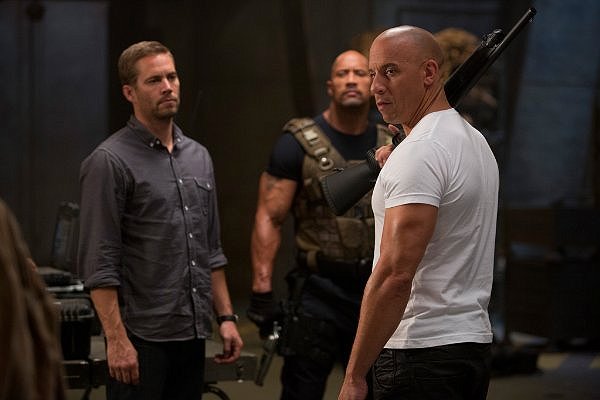 Directed by: Justin Lin
Starring: Vin Diesel, Paul Walker, Dwayne Johnson, Michelle Rodriguez, Tyrese Gibson, Sung Kang, Gal Gadot, Ludacris, Luke Evans, Elsa Pataky, Gina Carano
Rated: PG-13 for intense sequences of violence and action and mayhem throughout, some sexuality and language
The latest outing in the "Fast & Furious" franchise is another romp packed full of fast cars, beautiful people, gunfights, fisticuffs, and explosions. If you've somehow missed out on the previous films, don't worry: this is not a series built on complex character and plot development. If you've seen any team heist movies and/or car chase movies, you're set. This is a ridiculous film, and a ridiculously fun ride if you're willing to hang on.
Dom (Vin Diesel) and his crew of street-racing thieves have gone their separate ways since the events of "Fast Five," but Diplomatic Security Services officer Hobbs (Dwayne Johnson) draws them out of retirement with the promise of pardons all around — and information on recent sightings of a member of the crew thought dead since the fourth film. Hobbs needs Dom and his people to take on Owen Shaw (Luke Evans) and his crew, a ruthless team of international thieves bent on creating a very dangerous piece of technology whose exact workings are irrelevant. One crew of brilliant criminals is taking on another, that's all that really matters. The storyline is largely an excuse for the various sequences of mayhem.
That mayhem is the real reason these movies exist, and by now this team of actors, stuntmen and stuntwomen, and other filmmakers are experts. The chase scenes are beyond over-the-top (this time we get to see a bunch of cars and motorcycles versus a tank and support vehicles!) but well-choreographed, easy to follow, and a lot of fun if you like watching cars go fast and then blow up. The fight scenes are likewise awesome, and they even managed to find someone far larger and more muscled than Dwayne "The Rock" Johnson in order to top the Diesel vs. Johnson fight from "Fast Five."
The women in the series have come a long way from the first movie, shifting gradually from mostly homebodies who stay home and worry to being out in the field on equal footing with the men. Gisele (Gal Gadot) is a weapons expert and utterly fearless, Riley (Gina Carano) is an experienced law enforcement officer and Hobbs' second in command, and Letty is a fantastic driver and dangerous streetfighter. Even the minor female characters are presented as equal to the men – Clara Paget plays one of Shaw's team who's as dangerous behind the wheel as he is, and Mia (Jordana Brewster), whose only real role is to stay at home with her and Bryan's kid, is shown to be competent when the chips are down. Sure, there are a lot of ladies in bikinis as set dressing, and none of the female characters go without flaunting some cleavage – but neither do the guys, really. Diesel and Johnson in particular consistently wear outfits that show off their hard-earned physiques. This is a movie full of beautiful people being awesome, regardless of gender.
In short, "Furious 6" is another fun entry in a fun series of silly movies. It has an underlying theme of loyalty to family — whether biological family or chosen family — but mostly is just about fast cars and dangerous stunts. If that's the kind of thing you like, it will give you a very enjoyable ride. If you prefer plots without holes and complex character development, pick a different flick.