Dracula Untold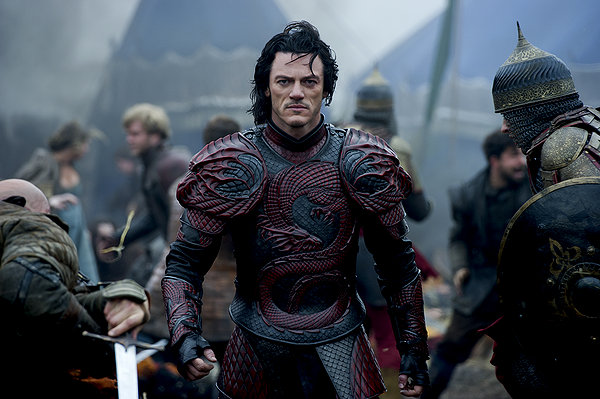 Directed by: Gary Shore
Starring: Luke Evans, Sarah Gadon, Dominic Cooper, Art Parkinson, Charles Dance, Diarmaid Murtagh, Payl Kaye
Rated: PG-13 for intense sequences of warfare, vampire attacks, disturbing images, and some sensuality
Vampires are nothing new. Dracula in particular is nothing new. "Dracula Untold" gives us an entire film of what we saw only briefly in Francis Ford Coppala's version of the famed vampire's life: the (rather brief) mortal life of Prince Vlad III – the national hero who saved his people and became a monster. This is definitely not a film for scholars of the historical Vlad, but if you know a little and are interested in another take on the vampire flick, it will sate your appetite.
Vlad (Luke Evans) has brought peace to his homeland, returning after years as a warrior-slave to the Turks to take the throne. All too soon, however, the Turkish sultan demands a thousand young boys to be trained as warrior-slaves, including Vlad's young son. When Vlad refuses, it is essentially an act of war, and before long the Sultan and his vast army are on their way to Vlad's castle.
Desperate to find a way to save his people, he turns to the most powerful being in his land: an ancient vampire. His powers are astonishing, and include some very neat special effects and epic battles between Vlad's powers and the Turks – but of course, there's a catch, and Vlad finds himself hungering for the blood of his own people, including his beloved wife Mirena (Sarah Gadon).
The plot isn't terribly original, and if you've seen even one or two vampire movies you will probably spot each twist before it happens. But then, half the fun with this kind of film is seeing exactly how the filmmakers put the characters through the familiar paces.
Evans and the other actors do solid work, especially given how much of their acting was likely done in front of a green screen or via motion capture. None of the characters are terribly complex or challenging, but the performances don't slide into camp except when appropriate, and there's very little metaphorical scenery chewing.
The action sequences alternate between creative and chaotic. When the special effects are getting shown off, we get nice long shots of well-choreographed action, but otherwise it's the standard up-close-and-blurry sort of shot. It's annoying to those of us who really dig fight choreography, but it does save time and money. It also avoids much in the way of gore, so the film can keep its wide-audience PG-13 rating.
Really, whether or not you want to see "Dracula Untold" depends on how much you love vampires – and not the pretty ones from "Twilight," the ones that are corpse-like and actually (sometimes) scary. It's almost a relief to see a film with "Dracula" in the title that includes nods to both history and Stoker without pretending to be either historically accurate or a close retelling of the novel. If you're not a vampire fan or fond of faux-medieval films like "Hansel & Gretel: Witch Hunters," this is not a movie for you; if you love Dracula and his ilk, and thought the previews looked pretty sweet, check it out.