Popstar: Never Stop Never Stopping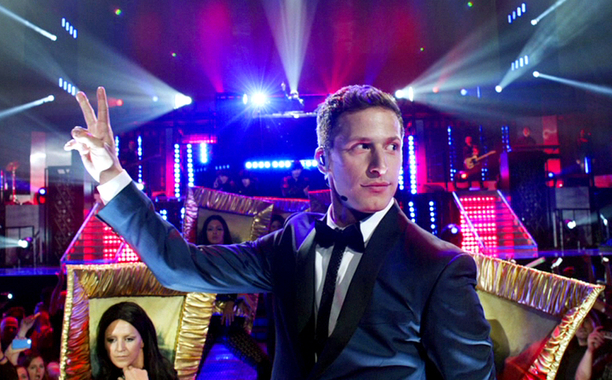 Directed by: Akiva Schaffer and Jorma Taccone
Written by: Andy Samberg, Akiva Schaffer, and Jorma Taccone
Starring: Andy Samberg, Akiva Schaffer, Jorma Taccone, Tim Meadows, Sarah Silverman, Imogen Poots, Chris Redd
Rated: R for some graphic nudity, language throughout, sexual content and drug use
Comedy trio The Lonely Island (Andy Samberg, Akiva Schaffer, and Jorma Taccone) first gained notice doing music videos like "Lazy Sunday" and "Like a Boss" for "Saturday Night Live." The three of them have worked in a handful of movies, but their latest is the first where all three have written and starred in it. "Popstar: Never Stop Never Stopping" is everything you'd expect from a Lonely Island movie. It's absurd, crass, and full of the over-the-top bravado that is Samberg's signature. If you like most of Samberg's work and/or The Lonely Island, "Popstar" is a must-see.
The story focuses on Conner4Real (Samberg), a solo hip-hop artist who was once a member of the boy band Style Boyz with his childhood friends Owen (Taccone) and Lawrence (Schaffer). They split up due to a disagreement between Conner and Lawrence about a songwriting credit, and now Conner, with Owen as his DJ, is a famous artist in his own right. His first solo album was a huge hit, and the film is a mockumentary of the release and supporting tour of his second solo album. When its reception isn't everything he'd hoped, he faces an existential crisis.
There are a lot of familiar tropes from Behind-the-Music-style documentaries, including a bunch of musical celebrities playing themselves and commenting on Conner and his career and influence. It's more than a little surreal to see Ringo Starr, Questlove, and 50 Cent commenting on a rapper whose songs discuss things like how dope it is that he's so humble ("Bar none, I am the most humble-est / Number one at the top of the humble list") and a recipe for paella. Surreal, and hilarious.
The entire film is packed with celebrity cameos (Justin Timberlake is particularly engaging as Conner's snack chef) and ridiculous music – including one song that is simply a list of things in the singer's Jeep, and another in favor of legalizing crack cocaine. Several of the performances really shine, especially the central trio. These aren't complex characters, but the effortless chemistry they have from growing up together resonates beautifully. There's a scene in which Conner, Owen, and Lawrence write a song together, and it not only feels real, it looks like they're having a blast.
This is definitely an R-rated film. There's nudity (including full-frontal male nudity), heaps of swearing, drug use (including a rather clever bong-making sequence), and detailed discussion of sex.
"Popstar" is aimed pretty squarely at the generation who grew up on "Behind the Music" and boy bands. While anybody familiar with and fond of The Lonely Island will be right at home, folks who are uncomfortable with, for example, lyrics that use the assassination of Osama Bin Laden as a sexual metaphor should stay far away.