Get Out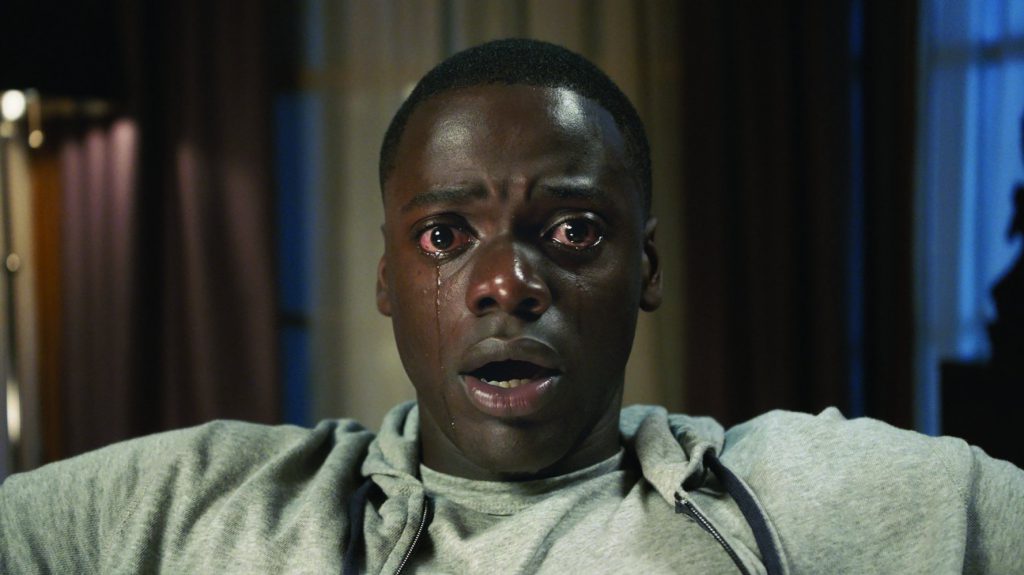 Written and Directed by: Jordan Peele
Starring: Daniel Kaluuya, Allison Williams, Bradley Whitford, Catherine Keener, Marcus Henderson, Betty Gabriel, Lil Rel Howery
Rated: R for violence, bloody images, and language including sexual references
Jordan Peele is probably best known for being half of the comedy duo "Key and Peele." When previews for "Get Out" started appearing, the prominent inclusion of his name as writer-director combined with the not-campy clips made some folks wonder if it was a satire, or maybe something in the vein of "Shaun of the Dead." It's neither. It's a straight-up horror/thriller movie that has a central thread of social commentary in it. It's also really, really good.
The film opens with a Black man walking in a neighborhood at night. A car passes him, then turns around and rolls up slowly beside him. We know how that story usually ends, and by evoking that cultural knowledge, "Get Out" reminds us how vulnerable Black people, especially Black men, are. White people can talk back to cops, can walk alone in their own suburban neighborhood without fear – unlike the anonymous Black man, who does, in fact, meet a bad end.
After that quick opening, we cut to the main story: photographer Chris (Daniel Kaluuya) and his girlfriend Rose (Allison Williams) are going to her parents' house for the weekend so she can introduce him to her parents. They don't know Chris is Black, and Chris is uneasy. His friend Rod (Lil Rel Howery) warns him not to go, but Rose reassures him everything will be fine.
Chris's uneasiness, and our own, gradually increases. Walter (Marcus Henderson), the Black groundskeeper Rose's parents employ, speaks and behaves oddly, as does Georgina (Betty Gabriel), their Black maid. Rose's very white family are accepting of Chris, though her brother Jeremy (Caleb Landry Jones) is a bit strange.
The strangeness gradually increases, and Chris tries at first to ignore it. Ultimately, though, he can't.
A large portion of the creepiness is thanks to Henderson and Gabriel as Walter and Georgina. They are the first unmistakable indication that something is off. Kaluuya makes Chris not only relatable and sympathetic but very real. His reactions to the increasingly bizarre things he sees are very understandable. His conflicting impulses to keep the peace and to protect himself will be familiar for a lot of people.
"Get Out" is definitely a horror movie, though it's of the slow-build-to-horribleness flavor. Once things really get going, there's a moderate amount of violence and gore. There aren't a million jump scares, though. This is a film that takes its time. Jordan Peele knows how to make us laugh, and now we know he also knows how to make us cringe in suspense and creep us out very, very thoroughly.
A side note to animal lovers: there is an animal death in the film, but it's not Chris's dog. Don't worry when the pooch shows up, he's going to be fine.
"Get Out" is the kind of horror movie that sticks with you for a while. If you don't like creeping dread down your spine, stay away. If you like your horror movies light on the gore and heavy with psychological horror, do not miss it. This is a film that merits avoiding spoilers and seeing in theaters.