Frankenweenie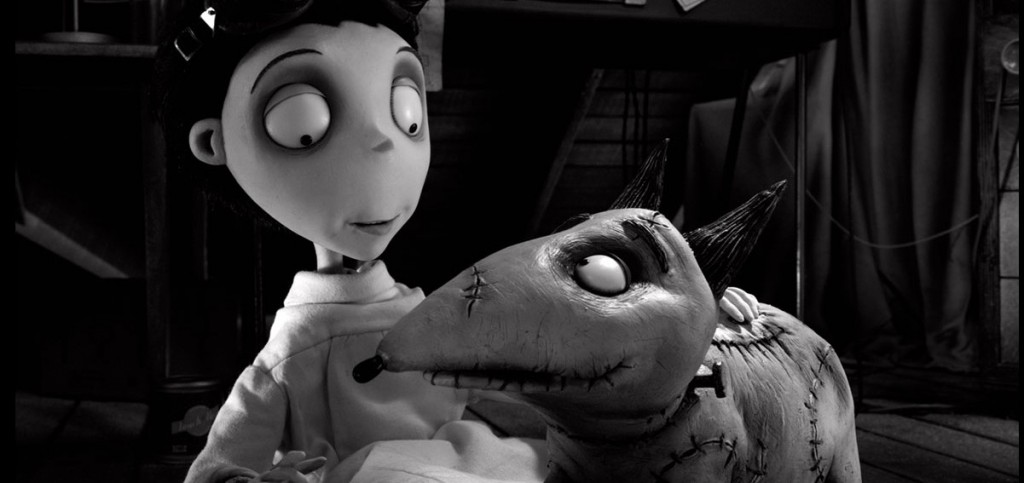 Directed by: Tim Burton
Starring: Charlie Tahan, Catherine O'Hara, Martin Short, Martin Landau, Winona Ryder, Atticus Shaffer, James Hiroyuki Liao
Rated: PG for thematic elements, scary images and action
Back in 1984, Tim Burton produced a stop-motion short film entitled "Frankenweenie," in which a boy brings his dog back to life after the beloved pet is killed by a car. It's a charming piece, and available in the extra content on DVDs of "The Nightmare Before Christmas." Now, almost twenty years later, Burton has returned to that story and expanded it into a feature-length film of the same title.
It's appropriate, given that the novel "Frankenstein" was originally a short story and later expanded into its current length. All the key elements are still present in the film: the boy, Victor (Charlie Tahan), and his dog, Sparky; the death; the reanimation. But Burton and his cowriters have expanded the story with more attention to character development, more subplots, and more references to classic horror films. This is a movie that both parents and children can enjoy. Kids will likely miss a lot of the references (unless they're familiar with Hammer Horror, Gamera, and Burton's early work), but the film stands just fine on its own merits.
As the film starts, young Victor seems like the outcast in his hometown of New Holland — he has no friends, preferring to spend his time making monster movies and playing with Sparky. As we get to meet the other kids in his class, however, it soon becomes clear that he may be the most normal among them by our standards. Edgar (Atticus Shaffer) looks like a classic Igor, complete with hunchback, and behaves accordingly. Toshiaki (James Hiroyuki Liao) is a budding mad scientist who will go to any length to win the upcoming science fair. Weird Girl (Catherine O'Hara) owns the cat Mr. Whiskers, who foretells the future via his litter box.
Even the adults are often strange and unsettling. New science teacher Mr. Rzykruski (Martin Landau) has a face like a long tombstone. Town mayor Mr. Burgemeister (Martin Short) is obsessed with the upcoming Dutch Day festival and won't hear of anything getting in the way, not even the opinions of his niece Elsa (Winona Ryder), who's to be this year's Little Dutch Girl.
The science fair is coming up, and once Victor has resurrected his dog, Sparky seems like the perfect topic. But Victor (rightly) suspects people will react poorly and wants to keep his success a secret. Word gets out, however, and soon the other kids in his class, determined to win the science fair, are trying to replicate the experiment — with disastrous results.
"Frankenweenie" is a film in love with science, with horror films, and with the love kids have for their pets. Not everything succeeds — Toshiaki's character is clearly meant to walk the fine line between homage and racial stereotype, and all too often falls onto the wrong side — but this is one of the best Burton films in quite some time. The artistic and technical aspects are as brilliant as we've come to expect from Burton, but far more importantly, the story works — even in the third act.
Very young children or kids who are sensitive may find the film upsetting (there's death, mummies, vampires, and other assorted monsters), but otherwise this is a movie for all ages. Adults who enjoy classic horror movies and remember the wonder and possibility of being a kid shouldn't miss it.