Ocean's 8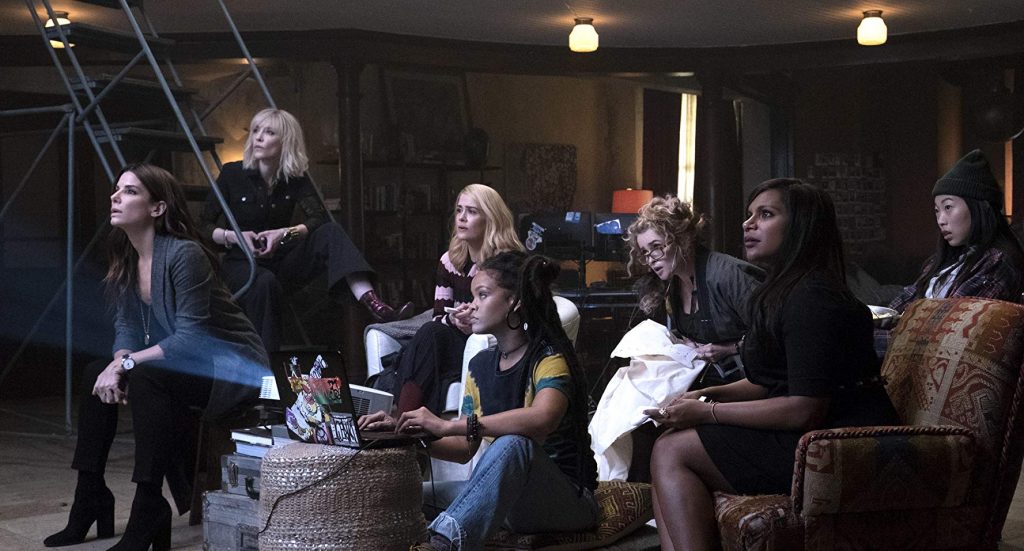 Directed by: Gary Ross
Starring: Sandra Bullock, Cate Blanchett, Anne Hathaway, Helena Bonham Carter, Mindy Kaling, Sarah Paulson, Awkwafina, Rihanna, Richard Armitage,
Rated: PG-13 for language, drug use, and some suggestive content
The heist movie is such a classic genre of film that it's hard to break new ground. "Ocean's 8" comes close, bringing us an all-woman crew of con artists and thieves working together to pull off the impossible. It's set in the same universe as "Ocean's 11" and its sequels, but there are only a couple of cameos featuring actors from the earlier films.
Our ringleader this time around is Debbie Ocean (Sandra Bullock), sister to the other films' ringleader, Danny Ocean (George Clooney). As the film opens, she's going through a parole hearing (where she promises to live a simple, 100% legal life). She gets paroled, but immediately returns to her con-artist ways. She meets up with her partner in crime Lou (Cate Blanchett), and sets about building a team for the impossible heist she was planning over her five years in prison.
The rest of the team are pickpocket Constance (Awkwafina), super-hacker Nine Ball (Rihanna), diamond expert Amita (Mindy Kaling), suburban mom fence Tammy (Sarah Paulson), and fashion designer Rose (Helena Bonham Carter). (Yes, that only makes a total of 7. There are surprises in store.) The target? A massive diamond necklace locked in Cartier's vault and worth 150 million dollars. Debbie has a scheme to get it out of the vault, using famous movie star Daphne (Anne Hathaway). Daphne will wear it to the annual Met gala, where Debbie and company will lift it and somehow smuggle it out of the building.
The heist aspect of the film is everything one would expect from an Ocean's installment. We get just enough details from the plan to be interested, without knowing so much that the heist is dull when it's pulled off. There's a good bit of comedy during the assembly of the team, and the very different personalities don't always play well together. Altogether, there are a lot of balls to keep in the air, and the movie succeeds.
There's very little to complain about here. The one disadvantage an all-woman team has is that women in Hollywood aren't allowed to age the way men are, and with half the team over 40, there's a lot of Hollywood magic to make sure they all look like they're in their 30s. Being cool means not making lots of expressive faces, but the lack of facial movement in some of the cast takes some getting used to. Here's hoping women are allowed to be in their 50s and actually look like they're in their 50s at some point in the future.
The stars are all massively talented, and it's a lot of fun to watch them play off each other. The dialog is snappy, the heist is creative, and there's a lot to love about "Ocean's 8." If you are looking for a heist movie, it will fit the bill just fine. And, like the recent "Ghostbusters" film, we get to watch a bunch of actresses step into the roles that have been reserved for men.