The Spy Who Dumped Me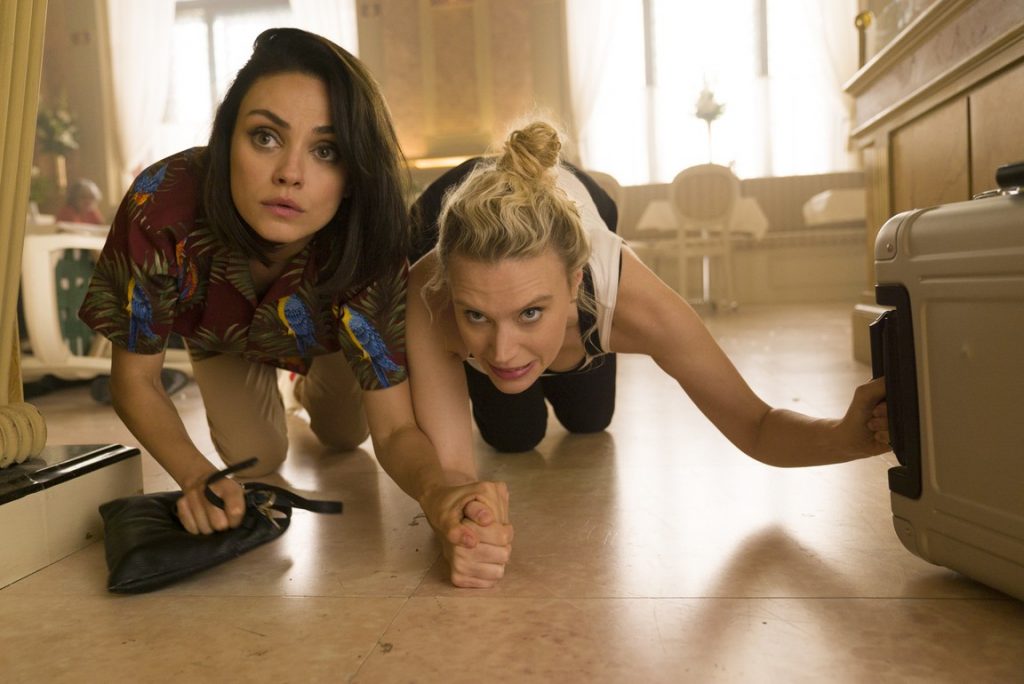 Directed by: Susanna Fogel
Starring: Mila Kunis, Kate McKinnon, Justin Theroux, Sam Heughan, Hasan Minhaj, Gillian Anderson, Ivanna Sakhno
Rated: R for violence, language throughout, some crude sexual material and graphic nudity
Summer is winding down, but we're still getting fun summery movies to enjoy before horror movie season gets into full swing. "The Spy Who Dumped Me" is a strange collage of poop jokes, spy-movie satire, and female friendship celebration. It doesn't always gel perfectly, but it's still a lot of fun – as long as you don't mind crude humor.
Audrey (Mila Kunis) and Morgan (Kate McKinnon) have been fast friends for a long time, with Audrey as the pretty one and Morgan as the weird one. When Audrey's mysterious boyfriend Drew (Justin Theroux) dumps her via text and then reappears with gunmen chasing after him, the two women get drawn in to an international conspiracy involving the CIA, MI6, and terrorists. Drew instructs Audrey not to trust anyone and to get "the package" (a soccer trophy) to a mysterious contact at a cafe in Europe. She and Morgan fly to Europe and are soon involved in shootouts, car chases, and an attempt to save the world.
Other major players include: Sebastian (Sam Heughan), a mysterious MI6 agent who may or may not be on their side; Duffer (Hasan Minhaj), a CIA agent who can't go two minutes without mentioning that he went to Harvard; and Wendy (Gillian Anderson), whom Morgan immediately identifies as the government's Beyoncé.
It's a fun romp, and the friendship at the heart of it is a beautiful thing. Director Susanna Fogel (who also co-wrote the script) brings sweet and convincing performances out of Kunis and McKinnon. In an industry that routinely objectifies and dehumanizes women, it's refreshing to see a film where the protagonists and other power players are women, and there's no somehow-necessary visit to a strip club so the audience can watch half-naked women dance. In fact, the only actual nudity in the film is male – if you can't handle shots including male genitalia, be prepared to clap your hands over your eyes.
The locations, once Audrey and Morgan are tearing around Europe, are beautiful. Or at least, they are when they're not being destroyed. The gorgeous, heavily-decorated cafe that is their original destination gets so thoroughly trashed that it becomes a gag in its own right.
McKinnon steals almost every scene she's in (nobody steals scenes from Gillian Anderson), and if you loved her in "Ghostbusters," you can safely look forward to a similar unhinged, hilarious performance here. Kunis manages to hold her own pretty well. She doesn't quite cut it when sharing scenes with not only McKinnon but Ivanna Sakhno as the seriously warped Russian gymnast assassin assigned to kill Audrey and Morgan, but it's a tall order to be the proverbial straight man in the face of that kind of scenery-chewing.
"The Spy Who Dumped Me" is ambitious, and if it stumbles occasionally, we can forgive it. This is a madcap comedy-satire crossed with a classic spy thriller, and while it doesn't dunk every shot, it's still very entertaining if you accept it on its own terms.